The page may not load correctly.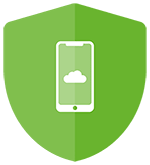 Protection for smartphones, tablets
Protection from all types of malicious programs that steal money and data from Android devices; encryption ransomware; unwanted calls and short messages; and dangerous web content.
from 4 zł/month or less
License options
Today's Android Trojans can steal anything you value — from photos to money. And Dr.Web for Android can protect all those things.
Features and benefits
Quick or full file-system scans, as well as custom scans, of user-specified files and folders.
The SpIDer Guard monitor scans file systems in real-time whenever an attempt is made to store files in a device's memory.
Neutralises ransomware lockers and keeps data intact, eliminating the need to pay a ransom to criminals. Even if a device is locked, and even from lockers that haven't yet been added to the Dr.Web virus database.
The unique Origins Tracing™ technology is used to detect new, unknown malware.
Moves detected threats to the quarantine from which isolated files can be restored, if needed.
Minimally impacts system performance.
Economises battery resources.
Economises traffic due to the small size of the virus database updates, which is particularly important for users whose mobile device plans have usage limits.
Password-protected anti-virus settings and password-protected access to applications.
Detailed statistics reveal what threats have been detected and what actions have been taken with them.
Offers handy and informative desktop widgets for accessing applications.
The number of Android-powered devices protected equals the number of PCs in a subscription. The available protection components and supported Android versions are listed below.
Protection components for Android
*
Supported OSs
© Doctor Web
2003 — 2022
Doctor Web to rosyjski producent oprogramowania antywirusowego Dr.Web. Rozwijamy nasze produkty od 1992 roku.